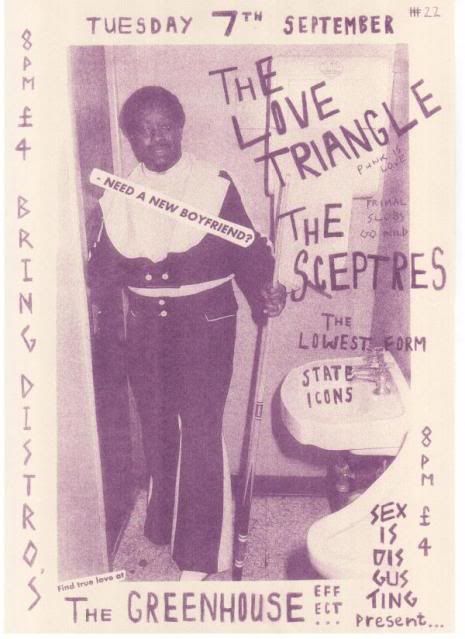 Sex Is Disgusting presents ... #22
The Love Triangle
The Sceptres
The Lowest Form
State Icons
Tuesday 7th September 2010, 8pm, £4. The Greenhouse Effect, 63 Church Road, Brighton.
The Love Triangle
(
http://triangleoflove.webs.com/
)
The Love Triangle features members of The Shitty Limits and Fashion playing punk-rock with diverse and immaculate touchstones ranging from soul & R&B through to Electric Eels, The Weirdos, Babeez, The Saints. Following three killer cassettes they are releasing their very first 7" 'Splendid Living' and should have it on this tour!
The Sceptres
(
www.myspace.com/thesceptresthesceptres
)
The Sceptres, also featuring members of The Shitty Limits, are one of the most considered and vicious punk-rock outfits on our fair isle. Commonly used comparisons are X, The Avengers and Bags (high praise indeed) and whilst The Sceptres are somewhat kindred in sound to these bands it would be a disservice to label them as nothing more than Dangerhouse-worshiping miscreants. Ralph's impeccable guitar playing, a incredibly compelling front-woman in Bryony and a rhythm section consisting of psychic brothers from Planet Punk mean The Sceptres are a cut-above most of their contemporaries and certainly more than slavish devotees to RADICAL PUNK ROCK OUTFITS PAST. New cassette out now!
The Lowest Form
(
http://www.youtube.com/watch?v=vtxcrIwqdJ4
)
The Lowest Form feature members of The Human Race, Please, La Vida Es En Mus PLC and more playing incendiary hardcore that sits proudly alongside Men's Interest, Sex/Vid and Slices as an example of contemporary hardcore done right. Fuck mystery, fuck artistic noodling so forced that is raises a grimace, this is hard, fast, inventive, forward-looking punk rock. Second show to my knowledge.
State Icons
(
www.myspace.com/stateicons
)
State Icons are Brighton-based punk influenced by 80's punk & hardcore, 90's metallic hardcore and Darren Bourne. Featuring ex-members of Staathaat, The Plague Sermon and many others, Ralf presides on vocals. A brain full of punk and a belly full of fire. Along with The Lowest Form, Mob Rules, Crowd Control, The Shitty Limits, The Hard Way and more, State Icons prove that hardcore in the United Kingdom is in ruder health than Offset's 'hardcore' (guffaw) tent would suggest.
Bring distro's, prepare to dance on a Tuesday, celebrate the fact that Big Brother will never be on our television screens ever again & invite friends!