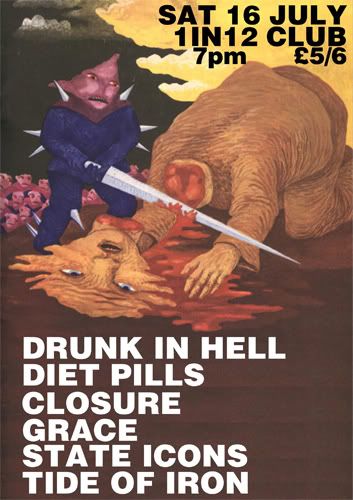 Saturday 16th July
@ 1 in 12 Club, Bradford
DRUNK IN HELL
undisputed kings of punk. the soundtrack to swimming in a septic tank filled with rats.
http://www.myspace.com/drunkinhell
http://www.youtube.com/watch?v=jOvOKIm4mdc
DIET PILLS
leicester's ugliest offspring. grungey noise rock hardcore that's even more sickening than gary linekar's face.
http://dietpills.bandcamp.com/
CLOSURE
raw power violence. fast bits. slow bits. punch yourself in the face bits.
http://closurehc.tumblr.com/
GRACE
metallic hardcore punk like coalesce/deadguy/botch etc from ex-jinn/tsua folk
http://gracencl.com/
STATE ICONS
south coast hardcore punk with a bit of metal and noise rock chucked in
http://stateicons.blogspot.com
TIDE OF IRON
more geordies. more noise rock. more big ugly riffs. more amphetamine reptiles ruining hardcore.
http://tideoffuckingiron.blogspot.com
http://www.youtube.com/watch?v=S0BqXqoLgp4
it'll start at some point and cost you something. details will be forthcoming.