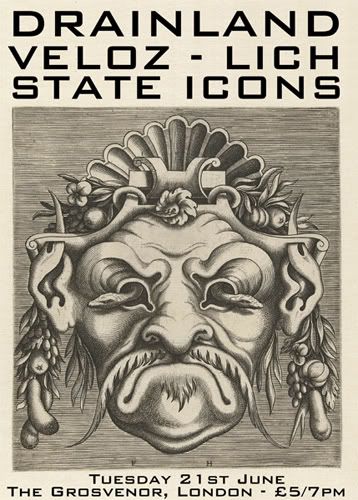 TUESDAY 21st JUNE
@The Grosvenor, London
Stockwell/Brixton tube
DRAINLAND
Ireland - Southern Lord/De Graanrepubliek/Bovine records
Only UK gig this year. Unrelenting brutality. Savagery.
http://drainland.bandcamp.com/
http://www.youtube.com/watch?v=LnnokZT5RVI
VELOZ
USA - Parade Of Spectres/Karmic Swamp/Prgnt records
hardcore eruption of metallic d-beat frenzy, blazing riffs and unadulterated furor
http://veloz.bandcamp.com/
http://velozband.blogspot.com/
http://soundcloud.com/flan-1/veloz-sworn-to-hunt
LICH
Kent - Parade of Spectres/React With Protest records
Ex-Battle Of Wolf 359 folks summon the spirit of HHIG/Acme/The Swarm etc. Screamo for want of a better word.
http://www.myspace.com/wearelich
STATE ICONS
Brighton
90s diy metallic hardcore punk worship. Possibly where Amphetamine Reptile and Ebullition records meet.
http://stateicons.bandcamp.com
http://stateicons.blogspot.com
£5 entry
8pm doors
http://www.facebook.com/event.php?eid=193041250737863
http://www.last.fm/event/1904398+DRAINLAND-VELOZ-LICH-STATE+ICONS+-+London+-+Tue+21+June
http://www.songkick.com/concerts/8766621-drainland-at-grosvenor